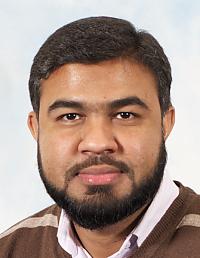 Prostate cancer is the fourth most common cause of cancer death in the UK, and more than 11,000 men died from the disease in the UK last year. The University of Surrey is currently addressing the urgent need to develop treatment methods for the disease as well as more effective diagnostic biomarkers to detect it.
Meet Dr Mohammad Asim who is exploring new ways of diagnosing prostate cancer as well as the development of new drugs and treatments to combat aggressive metastatic prostate cancer (cancer that has spread to other parts of the body).
You can support our cancer research today by donating to the Chancellor's 50th Anniversary Appeal.
What key problems does your research into prostate cancer address & what do you aim to achieve?
One of the key challenges in the treatment of prostate cancer is the resurrection of drug-resistant disease for which the treatment options are limited and mostly palliative. My laboratory is researching to understand the mechanisms that allow prostate cancer to become drug-resistant. Once we understand the ways that the cancer becomes drug resistant, we can employ this knowledge to target the cancer in a more precise fashion to cure cancer patients while minimising associated side-effects.
Why did you decide to specialise in prostate cancer?
Despite a number of recent advances in cancer research, prostate cancer is one of the major causes of male cancer-related deaths and about 40,000 new cases are registered in the UK alone with over 10,000 people dying from the disease each year. In my view, developing effective treatment for drug-resistant prostate cancer will save a lot of lives and improve social and emotional well-being of patients and their families affected by this disease. Finding targeted treatments that are more effective will mean that patients will be spared from repeated treatments leading to a decrease in disease burden, improvement in the quality of life and a decrease in costs to health services.
What do you enjoy most about working at the University of Surrey?
Surrey is a great place to work with all the support for prostate cancer research. Being able to not only do cutting edge research but also to share it in the classroom with our bright students, to prepare an army of future biomedical scientists, is highly gratifying and gives motivation to bolster our efforts to find curative treatments for cancer.
Our understanding of cancer and the current approaches for studying it are constantly evolving. What has it been like to be a part of this evolution?
To study the natural history and the disease spectrum is certainly the key to develop novel and more effective treatment strategies to attack this disease from novel angles. Recent exciting advances in genomics and tumour modelling have allowed us not only to understand the disease sub types but also to appreciate variations between individual prostate cancers. In the backdrop of these discoveries, these are exciting times in prostate cancer research to develop novel and effective therapies.
Finally, what advice would you give to junior researchers or to those who may be considering a career in research?
In my view, this is a highly noble profession and it requires hard work and perseverance. It is for those researchers who want to make a difference in the way we treat cancer in the clinic.