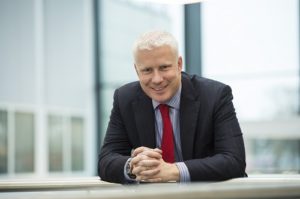 Meet Chris, Development Manager for the Faculty of Health and Medical Sciences focusing on the vet school.  His role is to engage with individuals, charitable trusts, corporates and other organisations with the aim of developing collaborative partnerships that help support our students and further animal and human health related research.
What do you enjoy the most about working at the University of Surrey?
The ability to combine my degree and previous work experience and skills in the same role and help further research and knowledge into animal and human health. I enjoy working in collaboration with academics, discussing their research and ideas that could help address some of the global issues we currently face.
What are you currently working on?
I am learning about the dementia and ageing related research currently happening at the University so that I can help academics secure funding which we hope will ultimately improve the quality of life and care for our ageing population.
How would you describe your job in 3 words?
Interesting, enjoyable and inspiring