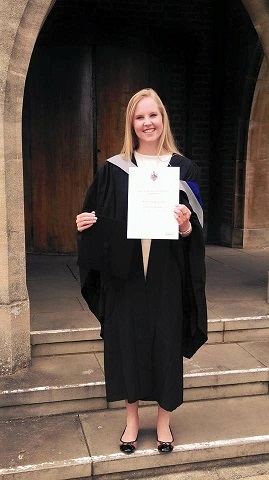 Read about Meng Space Technology and Planetary Exploration (2015) graduate, Eleanor Willetts, who writes about the benefits of a placement year and taking part in sports & societies at Surrey!
What attracted you to choose the University of Surrey and to study your course here?
At school the area I was most interested in was space science, which Surrey had an excellent reputation for. Having the Surrey Space Centre was a huge draw to come to the university and learn how it all really works. When I came to visit I immediately fell in love with the campus and the town, it had a great atmosphere despite raining the whole day! I knew I could happily live here and enjoy my studies at the same time.
How did you change as a person during your time as a Surrey student?
Two things really impacted me personally during my time at Surrey: my industrial placement year at Jaguar Land Rover, and joining the rowing team. I signed up to the rowing team as a fresher, because I was keen to try something new. Years later I've been President of the Boat Club, represented England at the Home International Regatta, raced twice at Henley Royal Regatta, and had a boat named after me. I'm still competing now after university because I can't stay away from the sport! It was a massively positive part of my university experience and I would encourage every student to try something new.
My industrial placement year really opened my eyes to how different it is working than studying. Applying your knowledge in a professional environment is very different to studying, but that really excited me. I gained a lot of confidence in myself and my abilities over the placement year, which definitely helped returning for my third and final year of my Masters. It also showed me how adaptable my knowledge was – understanding physical and engineering principles made it really easy to pick up new information.
What do you do now and what do you find most enjoyable about your line of work?
I'm on the Jaguar Land Rover Engineering Graduate Programme, a two year course designed to showcase the company and develop your skills. I've found a passion for company strategy: how do we overcome the problems facing the company in the coming years? I combine my engineering knowledge, technical understanding and newly learnt business skills to attempt to address some of the biggest problems there are: from air pollution, to global urbanisation.
I really enjoy the application of my knowledge, the study of the problems is certainly interesting but developing the solutions and creating the plan to deliver is what really drives me.
How did your time at Surrey influence your career?
I returned to Jaguar Land Rover in 2015 on the graduate scheme, something I would not have done without my industrial placement year there. It was a big step not to pursue electronics or enter satellite industry, but my time there had shown that I would be just as excited about my role at JLR.
Being part of the boat club really supported my softer skills: teaching me teamwork, leadership, time and project management; skills I use on a daily basis in my job and helped me to quickly settle into the company.
The role I complete now is a continuous stream of problem solving, something which my engineering degree put in me in good stead for. I have the engineering principles which gave me a solid foundation to expand my more specific knowledge gained at university out from satellite engineering to vehicles. It's not such a great step with the increasing complexity of cars!
How can students hoping to work in your profession make the most of their time at Surrey?
I can't recommend a placement year enough. The professional environment is completely different to the academic one, even if your role within a company is technically focussed. The learning I gained is something that comes best from experience and is very difficult to learn in a classroom. The support at Surrey to find a placement is fantastic; from CV writing courses, to mock interviews, top existing partnerships with companies, there is a whole heap of resources readily available. It also helps with finding a career after university, if only because you understand the application process that bit better. Not many universities offer the support that Surrey does, so make sure you use that to your advantage where possible.
What aspects of being connected with the alumni network are most important to you/of most interest to you?
Being at the University of Surrey was an incredible experience, and set me on the path I am on, and thoroughly enjoying, today. Being part of the alumni network allows me to share my experiences and encourage others to hopefully have the same experience I did. Your time at university is short so it's important to gain as much from your time as possible. I have friendships from my course and from my sports club that will last a lifetime, and being part of the alumni network allows me to still get involved with the university with them.
What is your happiest memory of your time at Surrey?
The memory that springs to mind is the Sports Colours Ball, 2015. It was my final year, and it was just before exam season started. Almost everyone I knew at university was there, representing a multitude of clubs. I myself was fortunate enough to win an individual award, as well as see many of my friends win awards and university colours for their sporting performance. It was a really great example of how much I had grown in my 5 years at Surrey and how many friends I had made.