Intra-mural rotations (IMR) is Surrey Vet School's unique approach to veterinary clinical training for its fifth and final year students.  Students undertake eight, four-week clinical training placements out in the workplace, where they are mentored by trained practice staff. 
IMR builds on the concept of Extra-mural studies (EMS), earlier in the course, which offers students an opportunity to gain real-life work experience to enhance their university-based studies.
I am only five weeks into my clinical training rotations and I can't believe how fast it has gone.  Waking up, knowing that I am heading off to a veterinary environment that I have devoted the last four years preparing for, is exciting in itself and makes the early mornings a whole lot easier!
A combination of excitement and nerves engulfs me before starting a new rotation, although I know that I have been well prepared by the staff team at Surrey, with a fantastic induction week back in the Summer. I am very aware that I am representing both myself and the University.  I feel so lucky to be where I am and I have enjoyed every moment of my fifth year so far; finally putting everything we have learnt into practice.
My first, four-week rotation was in a small animal general practice.  It was so exciting to be involved in an area of the profession that I can see myself entering in the next year.  The practice was fantastic; always offering me opportunities to consolidate my technical knowledge and skills, perform surgery and engage with clients.
Knowing that the vets are prepared to teach us takes away a lot of worries that students may have when gaining earlier work experience, as part of EMS. I am developing important transferable skills and knowledge, such as time management, communication and team work. During my four weeks at the practice, I could feel myself increasing in confidence and slowly transitioning from a student to a helpful member of the team.  It was wonderful to feel like I've been useful to the veterinary team.
Of course, there will be up's and down's, but I think that the new and innovative approach to  Surrey's fifth year out in the workplace provides a uniquely supportive and safe environment to begin understanding the importance of a vet's responsibility. I believe this is a crucial step and already I am starting to gain invaluable experience of some of the difficult and emotional realities of being a qualified vet.
All vet students fear 'not knowing enough' when they first go out into practice, but so far I have found IMR to be a smooth and natural transition from student to professional; it provides a gentle, enjoyable progression along the journey to qualifying. Now, beginning my second rotation in veterinary public health and veterinary pathology at the University's Veterinary Pathology Centre, I cannot wait to get stuck in to another aspect of the veterinary profession, and see what it has to offer!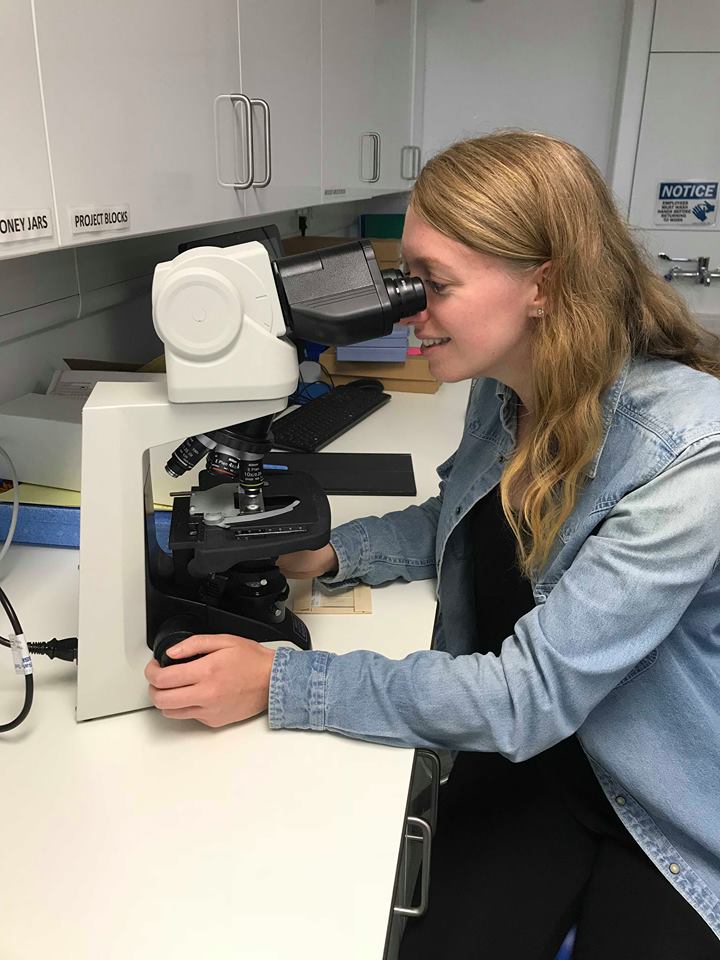 Hayley on her first IMR rotation at Cathcart and Winn Veterinary Clinic & Hospital in Farnham, Surrey