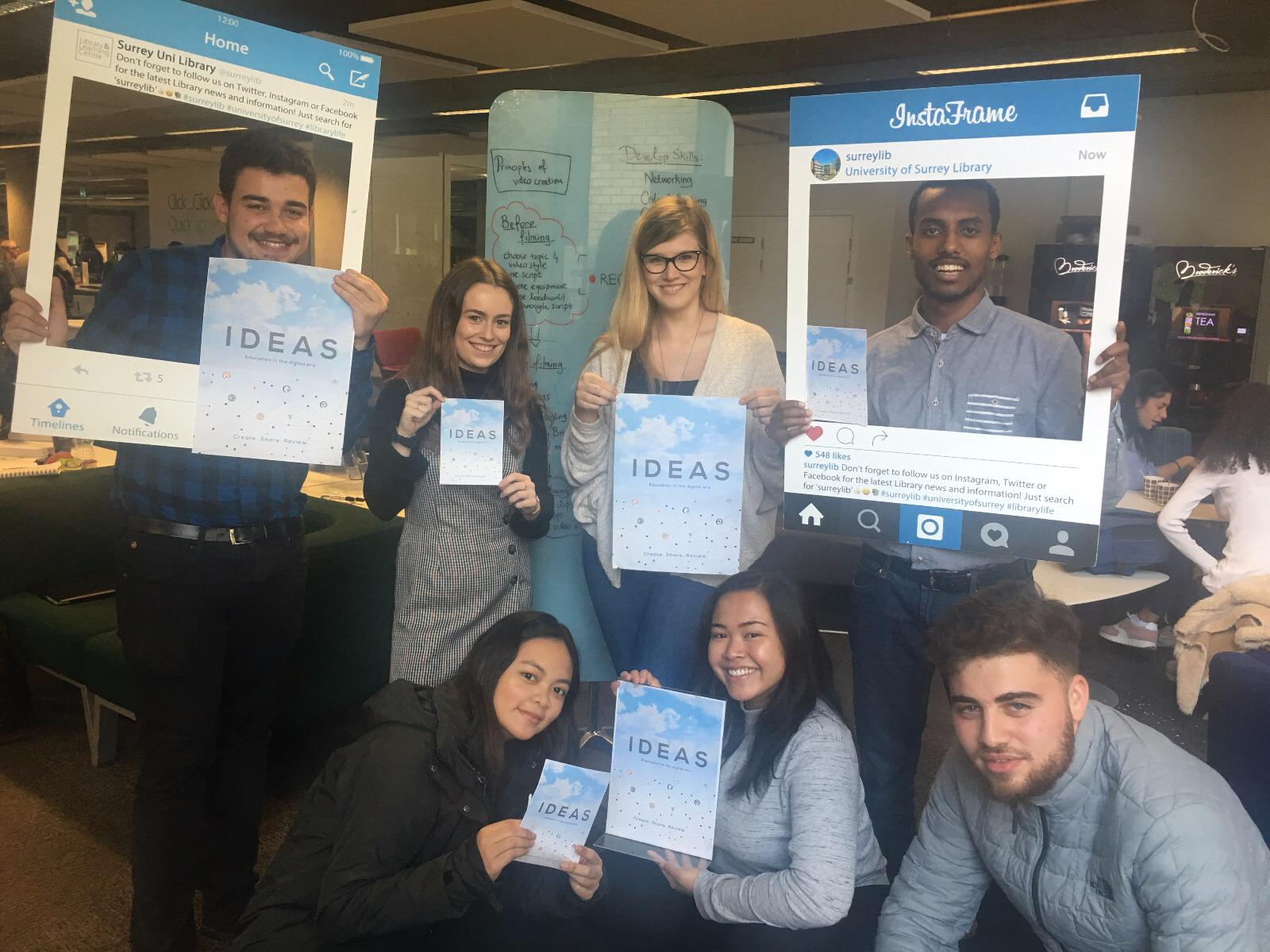 IDEAS is an innovative scheme which supports staff and students to get engaged in partnerships and produce educational video resources. Although we have had support from the Department of Technology Enhanced Learning the project has been completely led and developed by us, the team of seven EduInterns working this year on projects in the Education Office.
Near the start of our year as working as EduInterns we were asked to research and develop proposals for a project. The suggested aims were to try out develop new forms of partnership between staff and students and improve the learning experience for students, especially through the use of digital resources.
By providing a supportive environment for staff-student collaboration, we are aiming to overcome the existing fears and preconceptions regarding the use of video for education and popularise it as a useful tool in the teaching & learning process.
Guided by our pillars – Innovate, Design, Educate, Achieve, Synergise – we tried to create an environment that would suit everyone. For students, an opportunity to develop skills outside their course and become more employable as well as testing their knowledge and putting themselves in a teacher's shoes by designing educational resources for further generations. For staff members, an insight into students' perspectives and an opportunity to build a closer relationship with their students as well as design content fitted to their needs. In a nutshell, it is a hub where you can enhance your communication skills, meet new people, learn new skills and understanding about teaching and video production, and enrich the video library at Surrey.
The training consists of three workshops, each of them designed in order to help participants with the different stages towards creating educational videos. The sessions include brainstorming and sharing ideas in the generator workshop to narrow down to a specific topic area for the video. Participants then move onto the design and creation workshops where they learn about the principles of filming and the different video types, as well as having the opportunity to explore the various software available to them based on the video type that is most suitable to their topic. They also storyboard their ideas from the generator workshop, detailing the resources they will need and what subject content they will be focusing on.
By taking part in this project, participants will benefit by improving their organisational skills, communication skills with people from across the university, learning about the stages of video creation as well as software training. Additionally, they can receive recognition for their contribution towards the university's cloud of knowledge.
If you've ever wanted to create videos but have never known how to approach it, then IDEAS is the perfect route for you where you will be fully supported and be able to develop your digital skills.
Please email us to find out more or with any questions that you have EduInterns@surrey.ac.uk