In this blog, I describe the common outlets for collecting and badging your research as your own. Why does this matter? Your peers know you, and know where you publish, but even people in very nearby adjacent fields, given how specialised we all are, do not know you or know what you do. How then do people find out about your research? And we are talking about prospective collaborators from different disciplines, prospective PhD students, and fellow academics judging some aspect of your work – in grant submissions, promotion cases, honours and awards – whenever a view needs to be formed.
There are now many options that can be used to identify yourself and your research:
Web applications you set up yourself (Google Scholar, Research Gate, Academia.edu, Mendeley);
Commercial publication data bases with associated citation metrics (Scopus, and Web of Science);
Registration systems to "bar-code" you (ORCID, Scopus ID, ResearcherID);
Repositories to ensure you meet Open Access requirements; and
Other places to tell your research story.
Below, we briefly describe these products – and argue for the power and simplicity of Google Scholar as a quick and easy way to ensure you and your research can be found.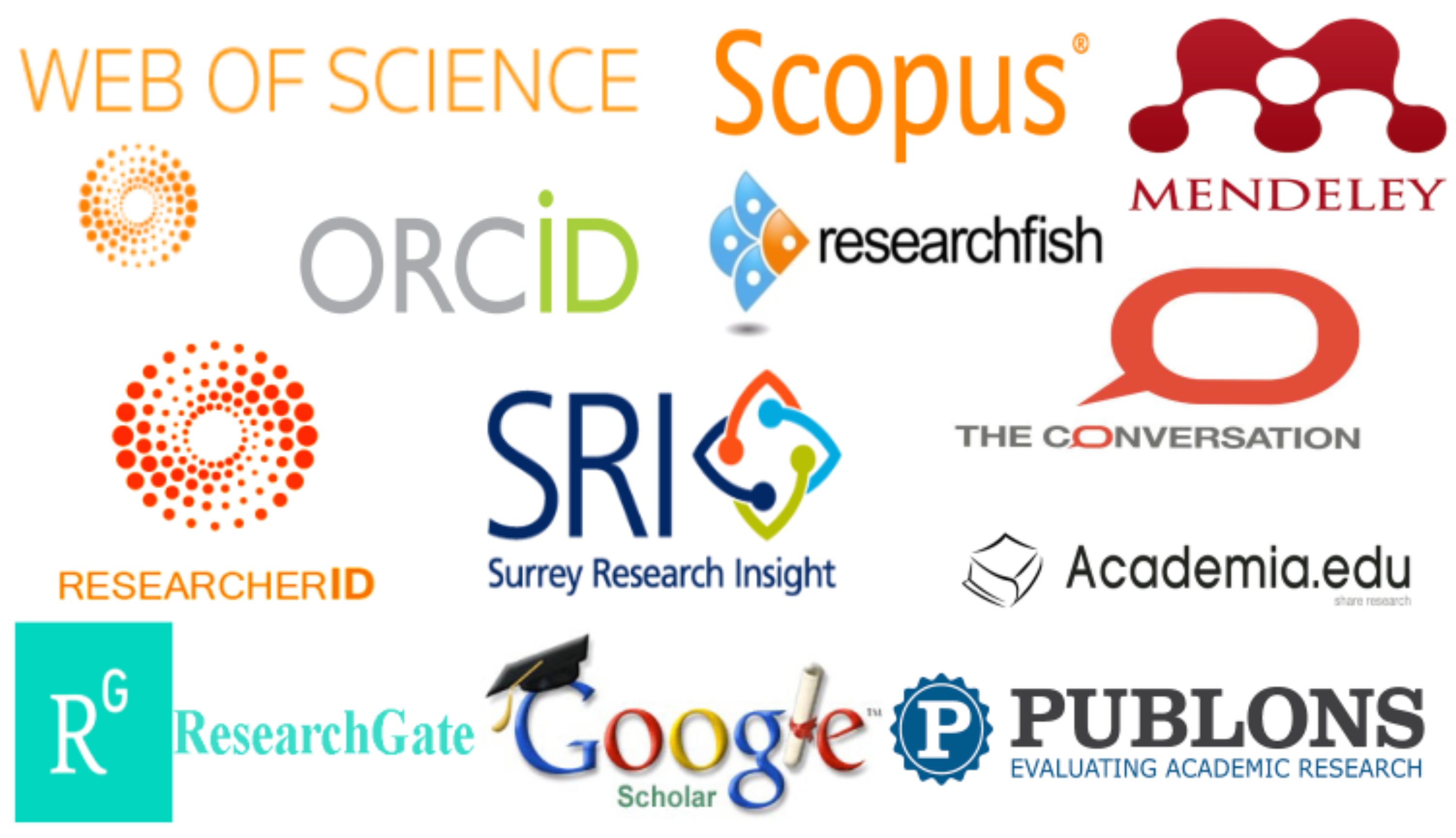 There is an article published in Nature a few years ago worth reading if you are interested in who is using what1.
There is a second purpose for many of these and other social media platforms – the creation of a community of scholars in which the main objective is sharing and socialising of your research. In this blog, we focus on making your research visible, rather than on this next level – and, thus, we do not discuss some platforms, such as Linked In and Facebook. For some quick tips on making the most of social media, see here and find out how the University of Surrey social media team can support you here.
Big thanks to Fiona Grieg and Gill Fairbairn for helping me with this – you can find follow up details on the Surrey website here.
What follows is a lot of detail about the options, so let me get the main recommendation in early:
Set up a Google Scholar page
(…and check it from time to time for accuracy)
Now read on if you wish to learn more.

Google Scholar
Google Scholar is the best all round tool for the job – it takes literally 5 minutes to set up here.
Thereafter, Google Scholar automatically finds all your outputs on the web, including on your own website and in the University of Surrey's institutional repository SRI Open Access – and includes pretty much all references to your work – even citations in published patents. According to Wikipedia, Google Scholar was released in beta version in late 2004.
Occasionally, Google Scholar requires sifting to remove items that do not belong to you, but the intervention is generally minimal.
Once you have a Google Scholar profile, it is very easy to check out others.  For example, from your own page, or anyone else's, click on the magnifying glass at top right. If you want to see who's who at Surrey – type @surrey.ac.uk for a ranked list of cited authors.  And an excellent feature I use is the recommended articles – it tells me quickly, more or less, who is doing what in my field and who is citing my work.
More details:
Google Scholar citations and metrics have fewer scrutiny checks and so often report citations not collected by other tools
Has an easy way to import your profile into ImpactStory, an open-source website that helps researchers explore and share the online impact of their research.
Google does not have the data quality checks that some of the other tools (Web of Science, Scopus) have and so that means there is more reliance on the author managing the profile.
In the same way, Google will pull citations from non-scholarly articles, things like library web guides or student handbooks.
Google profiles cannot be "pulled" into university systems.
There are other "self-serve" options: ResearchGate, Academia.edu, and Mendeley; all of which I am neutral about. Then, there is creating your own website, which is a great idea if you have the resources and inclination, and, finally, posting on our institutional repository SRI Open Access, which is an obligation in many instances.  Read on.
ResearchGate
Is a for-profit social networking website for researchers to share their expertise, knowledge, outputs and viewpoints, launched in May 2008 (according to Wikipedia). It provides a window onto your career and links with other general social networks. To create a profile visit here.
More details:
There are ongoing problems with publishers when authors upload copies of their articles, with many individuals being sent letters from publishers regarding copyright infringement. A way to avoid this is to ensure that you only link to the version that we have in the SRI Open Access repository (see below) – the Library will always ensure copyright restrictions are respected.
ResearchGate automatically finds your publications – but can require moderation – to confirm they are yours, or to correct hiccups, such as counting your supplementary materials as a separate paper.
Academia.edu
Is a for-profit social networking website for researchers that is similar to ResearchGate. The platform can be used to share papers, monitor their impact, and follow the research in a particular field. It was launched in September 2008, according to Wikipedia. To create a profile visit here.
More details:
Academia.edu started as a way to share research papers and outcomes and, in a similar vein to ResearchGate, this has led to problems with publishers and Copyright holders when authors upload copies of their articles.
A way to avoid this, as above, is to ensure that you talk about your papers and link to the version that we have in the SRI Open Access repository.
Mendeley
Is a tool from Elsevier, the owner of Scopus, originally designed (in 2008) as a free referencing tool similar to Endnote. It has now expanded its offerings to include a place where people can promote their own research. See here. (There is a relationship with the ScopusID to view the citation elements of papers.)

Scopus
Scopus, owned by Elsevier, is one of the largest databases of research outputs – however, not every journal, conference or book is included in the index, so it is not a universal resource – true especially for Arts and Social Sciences disciplines. In fact, knowing what is included and what is not is a moveable feast – e.g., some patents were in but all are currently out.  You can keep track of Scopus content selection data here.
Scopus allows authors to bring their research outputs indexed on this search tool together, allowing people to find your related outputs and not confuse you with other researchers with similar names. It does this by using ScopusID and encouraging the use of ORCID (see below).

More details:
To register with Scopus visit here. This tutorial may be of help if you are new to the tool.
Scopus seeks to ensure bibliographic, author and "citation" information is as accurate as possible. As it feeds the SciVal tool that is currently used by the Government, UKRI and key league tables, the Library team have taken an active approach to identify and "clean" the data for Surrey authors – but if you see anything wrong, it is really helpful to have it corrected – see here or email openresearch@surrey.ac.uk for help.
Web of Science, ResearcherID & Publons
Web of Science is an indexing tool, originally developed by Thomson-Reuters, that has spent decades in collating and enhancing information from publishers worldwide, and since 2016 is owned by Clarivate Analytics. It uses ResearcherID to allow authors to bring their research outputs indexed on this search tool together, allowing people to find all of your related outputs and not confuse you with other researchers with similar names. Latterly, it has also created Publons, which allows you to keep track of your reviewing – and provides some rather ambitious options – the topic for another blog.

More details:
To create a ResearcherID profile for Web of Science go here.  ISI Web of Science does include patents from over 50 issuing authorities back to 1963. ISI content coverage is detailed here.  Because Web of Science and Scopus index slightly different content, it is recommended that you maintain both profiles.
Data quality in Web of Science (and so ResearcherID) is generally higher than both Google and Scopus and so there should be less need for author intervention. However, just like Scopus, it is not a universal resource, and this is true especially for Arts and Social Sciences disciplines. Again, contact openresearch@surrey.ac.uk if you need help.

We described ScopusID and ResearcherID above.  There is a more universal identifier designed to link to all – ORCID.
ORCID
The explosion of different "researcher profiles" all claiming to do the same for authors indexed by various databases, or published by specific publishers, raised a number of concerns around how to keep them all up to date. ORCID is an independent not-for-profit organisation that is the agreed preferred profile internationally. It provides a persistent, unique, numeric identifier for individual researchers and creators. It distinguishes you from other researchers with the same (or very similar) name and supports automated linkages between you and your research activities. It allows researchers to make public their career affiliations, outputs, grants and other activities.
More details:
Because it is designed to allow data to pass system to system, it is possible for the University to utilise ORCID information to help populate systems like ResearchFish (see below).
ORCID can "harvest" from both Scopus and Web of Science profiles, so you don't have to do work twice to ensure your ORCID ID is populated. To start on that process, there is a University tool that allows you to create your own ORCID ID or let them know if you have an existing ID: https://magic.surrey.ac.uk/orcid/servlet/Orcid.

Surrey Research Insight Open Access Repository
One of the simplest ways to ensure your research is visible is to place it in the University of Surrey's institutional repository SRI Open Access. The repository is managed by the Open Research team in the library who can support you in copyright, open access and repository queries: email openresearch@surrey.ac.uk. To understand your obligations to funders and under the Research Excellence Framework related to Open Access, read on.
More details:
Your profile on the external University of Surrey website can be used to pull publications from the SRI Open Access repository, including any papers from before your time at Surrey (even when we don't have the full-text). Get in touch and we can do this for you.
Over the last ten years or so, the UK government has made a commitment to open access, requiring publicly funded research to be made freely available to all as soon as possible.  In support of this commitment, the UKRI funding councils have provided additional funding to pay for articles to be made open access where journal policies require articles to be behind a paywall longer than the council believes is appropriate.
The forthcoming Research Excellence Framework (REF) has echoed this commitment with a open access required for all outputs submitted to the assessment exercise.  The policy requires outputs to be deposited in an open access repository within 90 days of acceptance (even if the paper does not go live until an embargo is passed). Recognising the various levels of readiness and complexity in navigating open access in the UK, REF has developed a series of exceptions to this policy, to cover cases where there are legitimate reasons in not achieving this requirement.
It is not just UKRI funded research that requires this. Major funders like the Wellcome Trustrequire open access versions to be made available no later than six months from the journal publisher's official date of final publication. The EU, Bill & Melinda Gates Foundation and the NIH in the US are other leading funders with strong open access expectations.

There are still other options and less-optional places to tell your research story.
ResearchFish
The Researchfish Impact & Evaluation Hub is a platform for UK funders, research institutions and researchers to collect and report research outputs and outcomes. The UKRI Councils (AHRC, BBSRC, EPSRC, ESRC, MRC, NERC and STFC) use the hub as a way to gather information on their funded research. Principal Investigators on all current or recently completed UKRI funded research are required to provide an update annually during the submission period from February to March.  Principal Investigators who are required to provide an update are contacted by the Research Councils ahead of the submission window. Queries at the University of Surrey can be directed to Research and Innovation Services.
Other funders, including, Cancer Research UK also use the tool as a way to generate a "hub" of information about their funded projects.
The Conversation
The Conversation was founded in Australia as an alternative source of public discourse with connection to universities. It was soon established in the UK, and in Europe. The University of Surrey is a founding partner in the Conversation and supports it financially.
The Conversation is a great place to talk around your research in a more accessible way with researchers writing articles and a team of editorial staff helping to shape it into something that lay people can access. If you're interested in writing a piece for The Conversation, then email the Media Relations team who will be happy to help: mediarelations@surrey.ac.uk or register here.
Putting your own publications on your own website
Many researchers maintain their own webpages. This can be a great way to control your own destiny, but requires you to keep it up to date if you wish it to portray you in the best possible way. Some publishers do not allow you to post the "final PDF" version of the paper on these websites (as Copyright has been passed to the publishers). Some publishers do allow you to post on a personal website, but it is case by case, so check the Copyright Transfer agreement before you post anything. One way around this is to ensure that you list your papers and link to the version that we have in the SRI Open Access repository – we will always ensure Copyright restrictions are respected.
Enjoy your voyage of discovery….in being discovered.
Next time….thanks for reading.
Footnotes
1. Richard Van Noorden, Scientists and the Social Network, Nature 512, 126-129, 2014.