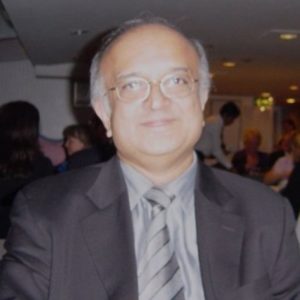 The support Vibhaker (Vib) Baxi received from the University when he started his degree in 1968 has been the motivating factor behind his decision to help Surrey students for more than a decade.
Vib's place on his physics course was under threat because of financial hardship but assistance and encouragement from his professor, Lewis Elton, enabled him to secure funds and continue with his degree.
"If Professor Elton hadn't helped me at the very start I would never have had the opportunities that came my way," says Vib. "I have never forgotten that. Being a donor is my way of saying thank you and I hope that some other needy and deserving student might be afforded help in the same way I was"
It was Professor Elton's vision that drew Vib to Guildford in the first place. He had the choice of two University of London colleges, which Vib thought were the logical places to go because of their long traditions, or the newly-created University of Surrey. But when Vib came to Surrey for his interview, it was very clear which he should choose.
"Professor Elton was quite inspirational and I was bowled over by how he thought physics should be taught," says Vib. "Despite resembling a building site, with mud everywhere, I knew Surrey was the place for me."
Vib enjoyed a highly a successful career in the financial sector at CitiBank, JP Morgan Chase, HSBC and Chemical Bank. He held positions with these institutions as Treasurer/Global Manager for Money Markets, Securities and Derivatives Trading encompassing major financial markets and now continues as an Investment Management Consultant.
Vib has also turned his passion for Indian music into a business as head of Navras Records, which oversees the production and distribution of classical, instrumental, vocal, devotional, traditional and fusion music from the Indian subcontinent.
"The support I received changed my life […] My career didn't turn out the way I imagined when I graduated, but it has worked out for the better. I am very proud of how Surrey has grown over the years. It is highly ranked and its research is making a difference to society. It has carved out its own niche with such scholastic excellence."